Snow mushroom (Tremella fuciformis) is also called snow fungus or white fungus in China. It is a very common ingredient for soup desserts. Snow mushroom grows mainly in southern China in a warm and humid environment. Although it is called snow mushroom or white fungus, its body is actually cream coloured, gradually turning yellow towards the root. Its neutral taste makes it very easy to combine with almost any ingredients. I remember that my mom used it in all kinds of dessert soups. After it has been boiled for a while, snow mushroom will turn to a gelatinous texture, which I find l soothing and comforting from inside out when I drink it. It is believed in China that snow mushroom has a lot of health benefits, such as healing dry coughs, fighting inflammations and boosting your immunity. And most important to Chinese girls: it is good for your skin! The skin benefit of snow mushroom is an old wisdom being passed down the generations. As long as my skin looks dull or rough, my mom would tell me to drink snow mushroom soup ever since I was a teenager. Research shows that snow mushroom is rich in Tremella polysaccharide, which has an excellent moisturising effect. In China, polysaccharides from snow mushroom is used in skincare products for hydrating and lightening spots on the skin. I'm not sure how magical it is, but the soup is delicious, so why not try it!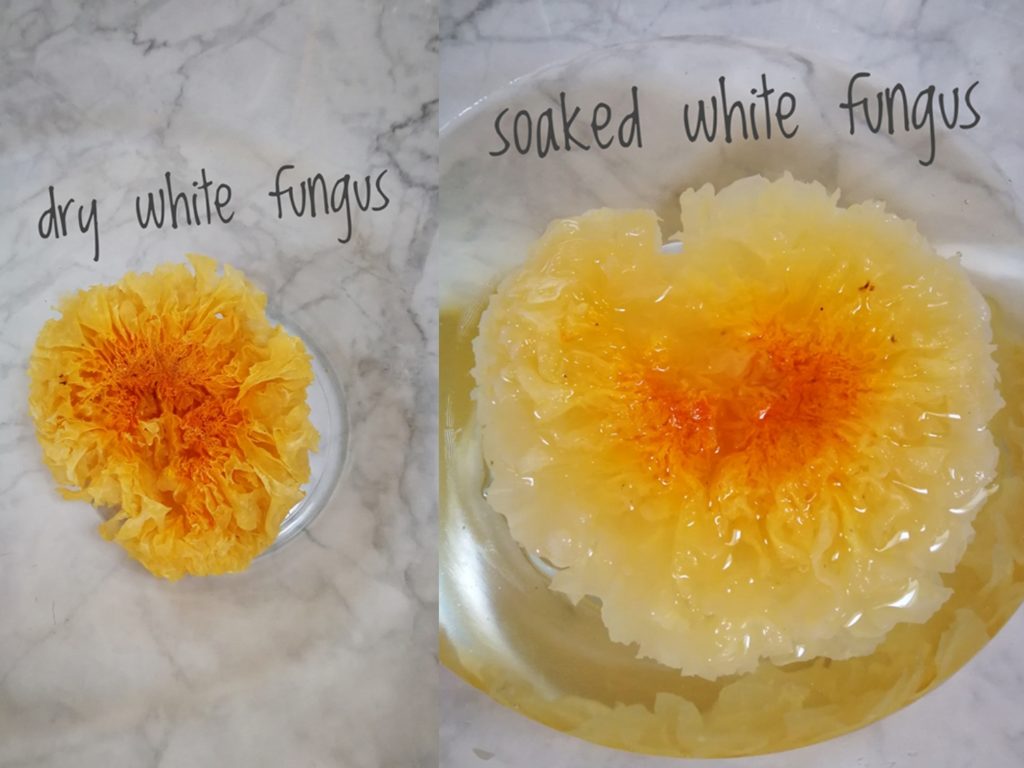 Keep in mind that the snow mushroom is sold dry and you need to soak it in water for 20 minutes before cooking. I use papaya in this dessert soup, because it bring freshness and an amazing colour. Papaya can be replaced by any firm fruit, for example pears or apples. Some fruits may bring a more sour taste, so please adjust the amount of sugar in the end. Also, some sweet veggies will be great ingredients in this recipe. Such as sweet potatoes, purple potatoes or pumpkins. But they require longer cooking time.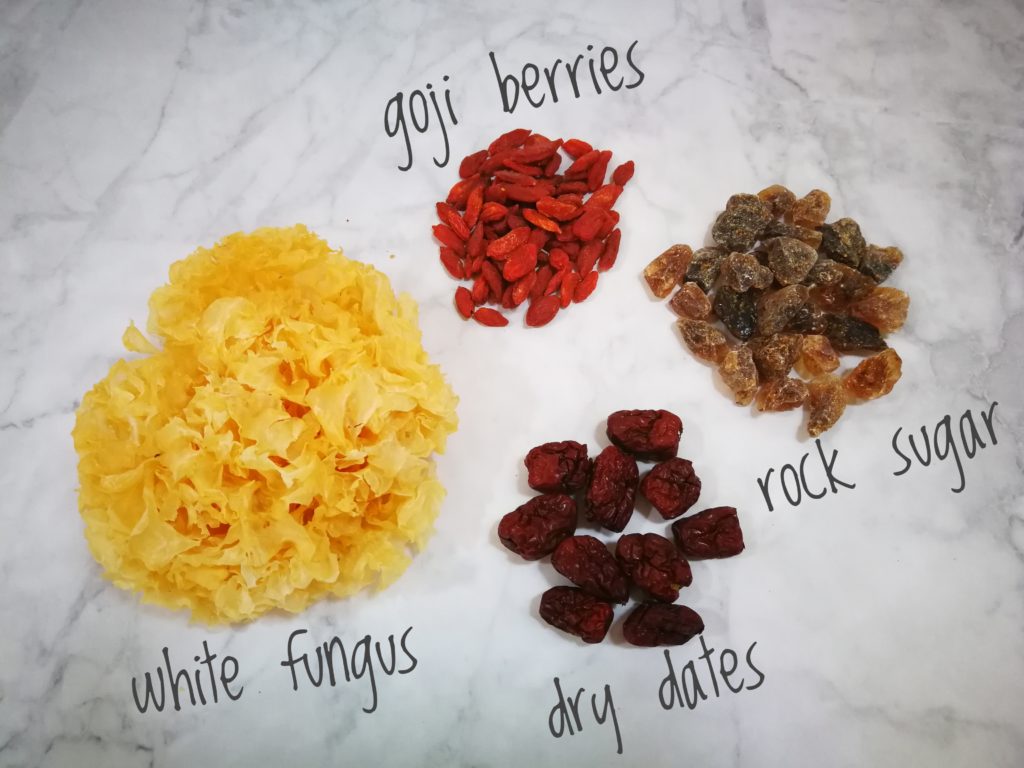 Rock sugar is a crystallised brown or white sugar. The tastes are slightly different between brown rock sugar and white one, but you can choose either of them. For Chinese dessert soups, we always use rock sugar instead of granulated sugar. I'm not exactly sure why, it's more a tradition. You can replace rock sugar by same amount of granulated sugar. The taste won't change much.
Snow mushrrom soup
February 4, 2018

4

45 min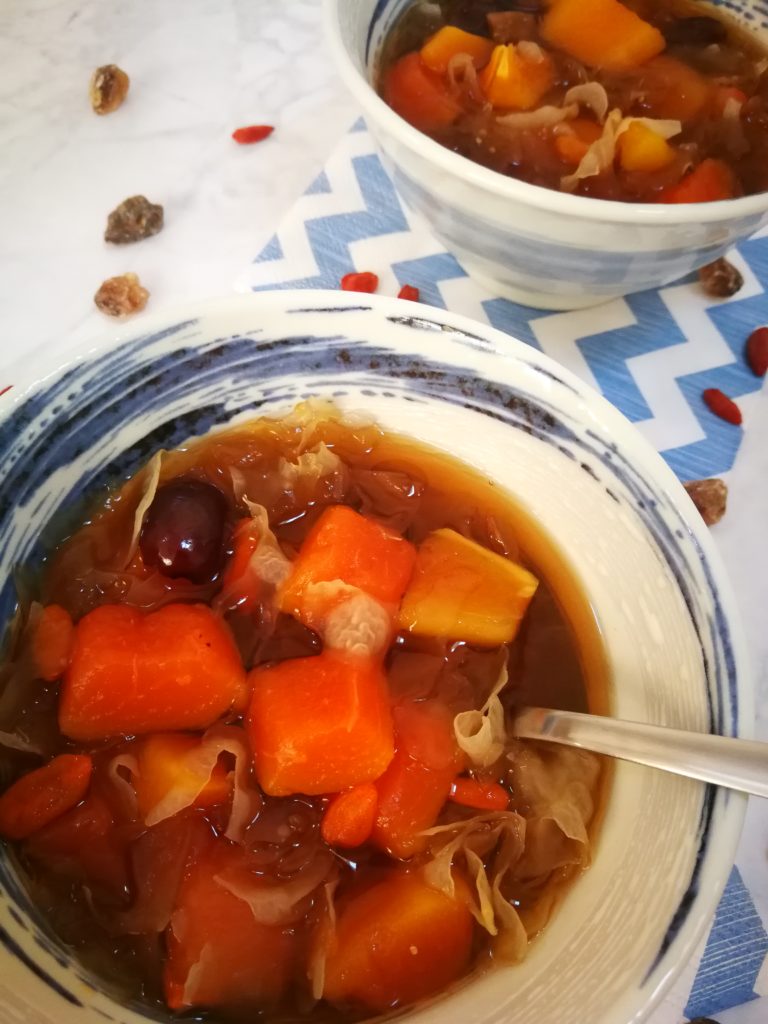 Ingredients
30g dried snow mushroom
500g papaya
10 dried dates
A handful of goji berries
80g±20g rock sugar
Directions
Step 1

Soak the snow muhroom in lukewarm water until it is fully expanded (this will take about 20 minutes).

Step 2

Wash it through, drain it and remove any dark spots.

Step 3

Trim the white part into bite sized pieces and throw away the yellow root part.

Step 4

Add the snow muhroom with approximately 1 liter of water into a medium sized pan and heat until boiling, then turn down the heat to medium or low and let it simmer for 20 minutes. At the same time, prepare other ingredients.

Step 5

Cut the date into half, remove the core and add them to the soup.

Step 6

Peel off the skin of the papaya. Remove the seeds. Cut into bite sized pieces and add them as well to the soup.

Step 7

Once the papaya is getting softer (after about 15 min), put in the goji berries and rock sugar and leave for another 10 minutes.

Step 8

Once everything is soft the soup is ready for serving!