Salad, AKA cold plate, serves a significant role in Chinese cuisine. It can be a side dish, or a starter, sometimes even a main dish for sweaty summer. Traditionally, starters for a Chinese banquet will be all cold plates in an even number, six or eight mainly. Yep, we Chinese people love even numbers! Look at the chopsticks in your hands, they are two!
I want to break down a salad into four parts: main ingredients, seasoning sauce, seasoning oils and cherry on the top.
For main ingredients in salad, number one is no doubt vegetables. There are single veggie salads, like cucumber salad, green bean salad. Or there are combinations like seaweed, cucumber and cherry tomatoes. Another must have part is protein. Soy products, egg sheet, shredded chicken breast and seafood are commonly used. You can also include some carbs, like thin sliced potato, glass noodle, vermicelli or lotus root. Carbs can absorb a lot of flavours from the seasoning sauce. So if you are a taste driven person, definitely try to add some!
Seasoning sauce can be various. It can be well balanced in sweet, sour, salty and spicy, while can also be a bit edgy to enhance only one flavour. The most basic ingredient is definitely light soy sauce. Sometimes it can even be the only seasoning. But if you want to rely on one single product, it's better to make sure this is a good quality one packing with flavours. Here I highly recommend Lee Kun Kee seasoned soy sauce for seafood. On top of light soy sauce, adding in sugar and vinegar will be a good choice. Nut butters are also great, along with minced garlic, ginger, red onion and/or coriander.
Oil is another essential ingredient for salad. Instead of using simple normal oils, I would rather prefer the oil serves some purpose. For sure, seasoning oils are better choices. For different flavours, you can use chilli oil, pepper oil, scallion oil, garlic oil or mustard oil. Most of them can be found in Asian store. I also introduced how to make scallion oil in my scallion pancake recipe.
Last but not least, the declaration for salads. After mixing all the ingredients with seasonings and plating them, there are something can be added in. They are not only pleasing your eyes, but also bringing another layer of flavour. Coriander or chopped green onion can be sparkled on top. Chilli rings or cherry tomatoes will be good options too. I personally love to use crushed nuts or seeds, which is also rich in nutrition.
Okay, the long theory part is done. Now, let's talk about the tofu skin salad. Soy products are one of the main protein resource in China. By blending soaked soybeans and water, we have soy milk. From soy milk we can get various of soy products, like silky tofu, firm tofu, tofu skin and pressed tofu. When soy milk is constantly boiled under low heat, parts of soy protein will break down and reform on the surface, becoming small pieces of foil. Without being stirred, the foil can form a whole layer on the surface. If we take this layer and dry it, we get tofu skin. Therefore, tofu skin has the highest protein portion in entire soy products family. (Thumbs up!) In Asian store, tofu skin will be found in three forms: sticks, sheets and knots. I use tofu skin sticks today, you can choose any form. Sticks and knots need longer soaking time, but have better texture to bite in.
Here's a small tip for soaking tofu skin sticks. If the sticks are too long for the soaking bowl, don't try to break them first. They are too crispy and may break into many small pieces. Soak them in water partially for a few minutes. Water will bring back the elasticity. Then you can cut them in half with a neat edge.
Tofu skin salad
December 5, 2018

4

20 min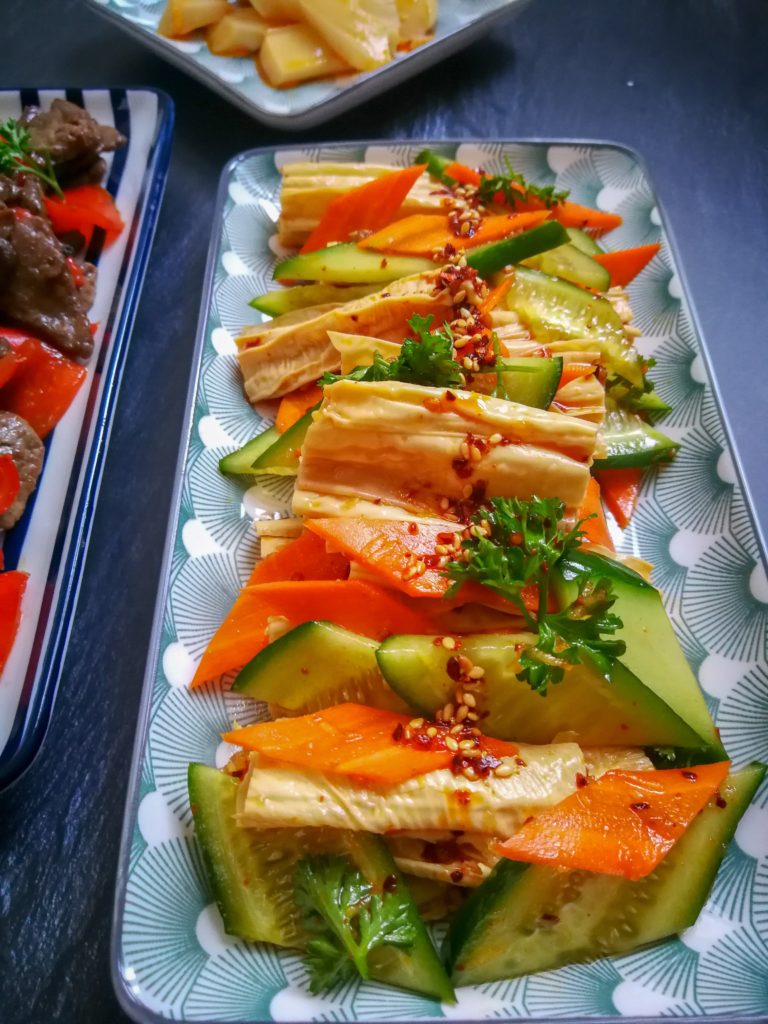 Ingredients
100g tofu skin sticks, soaked overnight
200g cucumber
100g carrot
A handful of chopped coriander or parsley
1 clove of garlic, finely minced
4 tbsp light soy sauce
1 tbsp vinegar
1 tbsp sugar
1 tsp chilli oil
A pinch of salt if needed
Directions
Step 1

Cut tofu skin sticks into 3cm pieces

Step 2

Sliced cucumber in 2mm thick

Step 3

Sliced carrot in 1mm thick and mix with drops of lemon juice

Step 4

Mix all the ingredients and enjoy your salad!