If you want a mild and light breakfast but still with some interesting flavour, scallion pancake will be perfect for you. A good scallion pancake should be soft and layered, with a clean scallion aroma. The trick of the dough is making it with hot water. Technically, the hotter the water is, the softer the dough will be. I prefer the texture of my pancake with 70 degree water. But you can totally try different water temperature to achieve softer or harder pancakes. If the dough happens to be too soft to be manageable, just let it rest for half an hour first, then add 1-2 tablespoon oil and knead it. The dough will be smoother and hold together.
Another secret of scallion pancake is in the seasoning oil. The scallion oil we will make here is the must have seasoning oil in my cupboard. It is super tasty and wide used. You can add it to pancakes (of course :-p) and fried rice, or top it to salads, cold noodles, seafood and chicken dishes. You can also use the scallion oil and light soy sauce 1:1 as a delicious dipping sauce. Following the amount in my recipe, you will have some extra scallion oil left. I highly recommend you play it around with different dishes. When your dish is a bit plain, add some scallion oil!
If you usually experience rush mornings, scallion pancake is a great option, because it is frozen well. You can totally make a good amount of pancakes beforehand and freeze them in separate potions. Simply reheat it in frying pan or microwave oven in the morning, serving with an egg and some fruit. It is also great as a side dish or a snack.
scallion pancakes
December 5, 2018

4

45 min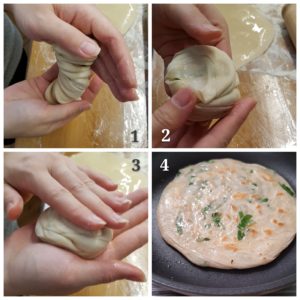 Ingredients
1 cup plain flour
100 ml water, 70 degree
3 shallot, thinly sliced
5 green onion, finely chopped and separate white and green parts
½ cup cooking oil
½ tsp salt
Directions
Step 1

Put oil, shallot and green onion white parts into a pot. Slowly fry under medium low heat until they turn to yellow. Then put in the green parts (leave a handful to sparkle in the pancakes) and reduce heat to low.

Step 2

Remove the heat when the onions reach dark brown. Throw away the fried onions and keep the oil. Let it cool down. Now you have the flavourful scallion oil!

Step 3

Slowly pour the hot water into flour and mix constantly. The flour will turn to small pieces of dough. Stop when there is still a bit dry flour left at the bottom. You may not use all the water.

Step 4

Knead the dough to smooth. Let it rest for 30 minutes. The dough should be as soft as earlobe.

Step 5

Roll out the dough as thin as possible. Brush the scallion oil on it and evenly sprinkle salt and green onion green parts on it. Roll the dough in one direction.

Step 6

Cut the roll into 4 pieces. Close up both ends of small rolls.

Step 7

Stand the roll up between your hands. Twist and press it. Roll them out into small pancakes.

Step 8

Heat up a small amount of oil under medium heat. You can use scallion oil for more flavour. Fry both sides for 2-3 minutes until the pancake gets browned on surface and babbles inside.
My dear friend Teal Brooks took the photos for me. Thanks a lot!