"Yu Xiang" means fish aroma, standing for a specific way of seasoning the dishes. There are Yu Xiang shredded pork, Yu Xiang chicken wings, Yu Xiang cauliflower, etc. Funny thing is, there is no fish in any of the Yu Xiang dishes, even no seasoning sauce made from fish. It's said chiefs using this way to cook fish in the old time. Somehow the entire seasoning method shifted to cook many other ingredients instead of fish. I can't even recall I have ever had Yu Xiang fish, lol. I tend to believe fish here is just a particular way of referring umami.
I want to show how to make Yu Xiang eggplant here, because eggplant is a personal favourite veggie. However, it could be tricky to cook eggplant. It is definitely a dense veggie with sponge-ish texture, which means longer cooking time and more cooking oil required. There are different ways to pretreat eggplants making it softer and less watery. The restaurant way is deep frying or coating with flour then deep frying. Apparently not my preference. Using microwave oven is the simplest way I have ever found. If you don't have a microwave oven, steaming is a good substitution. Another popular method is marinating the aubergine wedges with some salt for 10-20 minutes, then squeezing out the excess water. If you don't mind the extra salt, it's a very effective way to pretreat eggplants.
Yu Xiang seasoning should combine savory, sweet, sour and spicy. I use the same potion of light soy sauce, balsamic vinegar and sugar. Starch and water here are for viscosity, helping the sauce to coat on better. For spicy taste, there are mainly two options: spicy fermented bean paste (Dou Ban Jiang) or chopped chilli sauce (Duo Jiao). I choose spicy fermented bean paste for this recipe. It is milder in spiciness than chopped chilli sauce and offer a nice aroma from the fermentation. It is also easier to find a good quality spicy fermented bean paste in Asian stores. It is a must have in my pantry, playing an essential role in many Sichuan style spicy dishes. In the future, I also will post more recipes using this paste.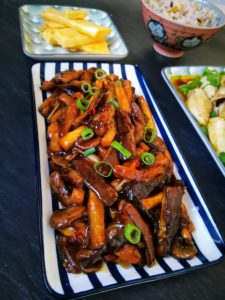 In traditional Yu Xiang eggplant, mince meat is usually used to enhance flavour. For vegetarian version, I tried to use button mushroom cubes instead of mince meat. The taste turned out as great as the original version, if not better! I highly recommend to try the vegetarian version too even you are not vegetarian.
Yu Xiang Eggplant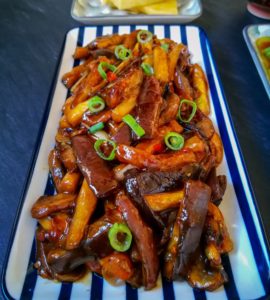 Ingredients
500g eggplant, sliced into potato wedge size
100g pork belly, minced (or 100g button mushroom, cubed)
3 cloves garlic, minced
10g ginger, minced
2 green onions, minced
1 tbsp spicy fermented bean paste
1 tbsp cooking wine
1 tbsp light soy sauce
1 tbsp balsamic vinegar
1 tbsp sugar
1 tsp starch
3 tbsp water
2 tbsp cooking oil
Some green onion chops for topping
Directions
Step 1

Heat the eggplant in microwave oven for 10 minutes (high watt). Turn over in between to make sure them cooked evenly. The eggplant should be half softened and slightly shrink visually.

Step 2

Mix soy sauce, vinegar, sugar, starch and water together into a sauce.

Step 3

Heat up oil in a pan under medium heat. Slowly fry the garlic, ginger, green onion and fermented bean paste until the oil turns red.

Step 4

Turn up the heat to high and put in pork mince or mushroom. Fry until cooked. Put in cooking wine and fry for another one minute.

Step 5

Put in the eggplant and fry until it fully cooked. You can press the eggplant gently with spatula.

Step 6

Mix the sauce well and pour it into the pan. Cook until the sauce is mostly absorbed.

Step 7

Garnish with green onion chops.