Tofu is one of my favourite ingredients, low in calories but high in protein. It is actually one of the richest plant protein sources. It also contains many important vitamins and minerals, like iron, potassium and calcium. All those benefits make it a great option for vegetarian or other diets.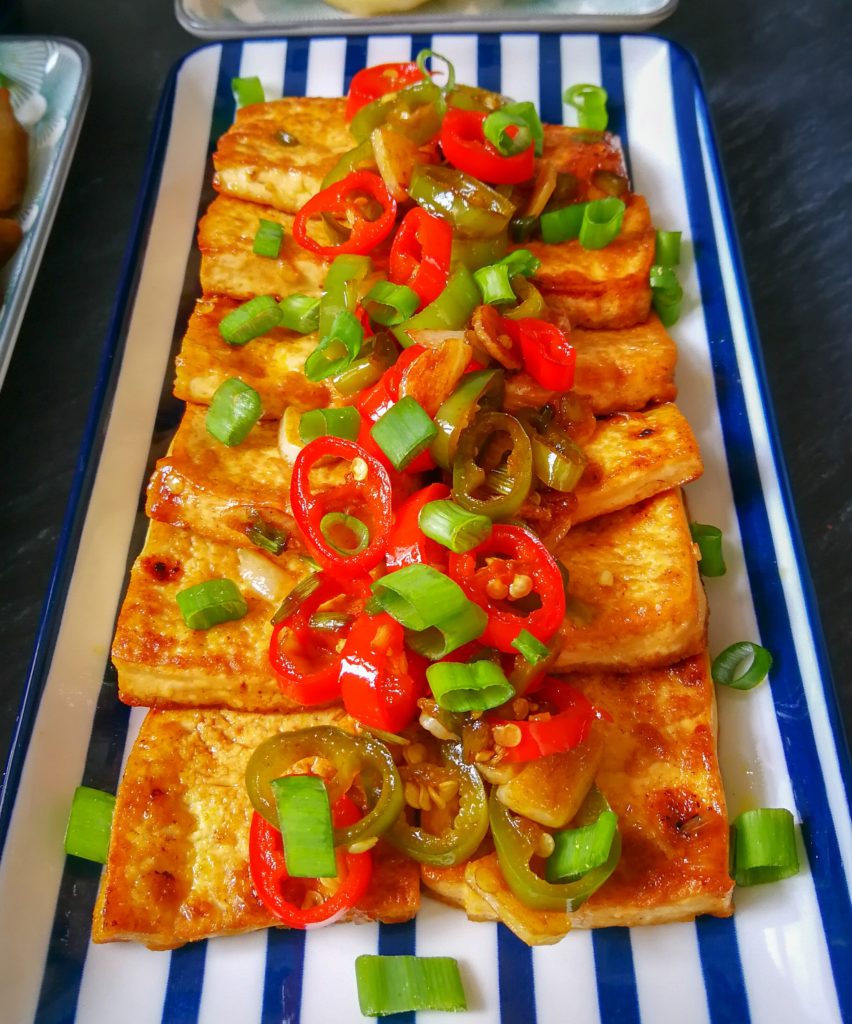 Usually, you can find various of tofu in Asian stores, which are distinguished by firmness. The block tofu is formed by pressing tofu curds into a mold. Depending on how much water is extracted from the tofu curds, there are four main varieties: soft, medium soft, firm and extra firm. Sometimes you can also find extra soft tofu, which we call Douhua (bean flower) in China, serving as breakfast or dessert. It can't even hold the shape, so I won't count it as block tofu. Soft and medium soft tofu are delicate, requiring a soft hand. That's why I mainly use them for braising or boiling. Similar as silken tofu (soft or firm), which I will explain more in another blog. For the dishes need more stirring, like stir fry or pan fry, I prefer firm or extra firm tofu. Firm tofu has a slightly rubbery texture. The elasticity makes it much more forgiving. You can handle it easily with spatula, tongs or chopsticks.
Back to this recipe, I pan fry firm tofu first to get some golden crust on the surface, which is a tip to prevent tofu falling apart. For the seasoning sauce, I use a combo of light soy sauce and oyster sauce (can be replaced by vegetarian oyster sauce). This is a universal combination for stir fry dishes, which you want a umami savory taste without much colour on. For better taste penetration, I add some water in the seasoning sauce and braise the tofu in a short time. Water here plays a role of extending cooking process, but the final dish shouldn't be watery or saucy. So in the last a few minutes you should keep a close eye on it. Don't burn your tofu, while waiting until all the water evaporates. Chilli, garlic and green onion are "flavour ingredients". What you can also use are minced ginger, cubed onion or shallots. Sprinkle some chopped coriander, parsley or toasted sesame could be a good idea too.
Savory Fried Tofu
January 23, 2019

2

35 min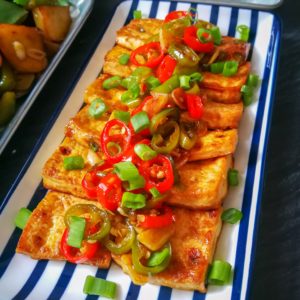 Ingredients
300 g firm tofu, sliced into bite size 1cm thick
1 red pepperoni chilli, chopped
1 green pepperoni chilli, chopped
1 clove of garlic , minced
1 green onion, chopped and separate the white and green parts
½ tbsp light soy sauce
½ tbsp oyster sauce/ vegetarian oyster sauce
100 ml water
2 tbsp oil
Directions
Step 1

Fry tofu in oil over medium heat with lid on, until get golden crust on both sides.

Step 2

Move the tofu to give some space. Fry chilli, garlic, and green onion white part until aromatic.

Step 3

Add in water, soy sauce and oyster sauce. Spread tofu slices evenly in the sauce and cover the pan. You might need to turn the tofu slices over occasionally depending on the pan size.

Step 4

Cook until the sauce is sucked in. Sprinkle the onion green part on top.